Because we learn, apply, share and train
Texavi brings to you the rich experience we gained working on real-life projects in the IT industry. Not just applying the knowledge for ourselves, but through training we share it with participants. Our sessions help in enriching the knowledge for everyone, turning it into actionable and usable insights.
Because we add context to the concepts
We evolved the 5C Training Model that hinges on delivering the best value to the trainees. It helps us meet the expectations of the participants and delight them by the rich insights drawn from various sources. The model is based on industry standards and the value-add using the best practices and lessons learnt from our experiences and expertise.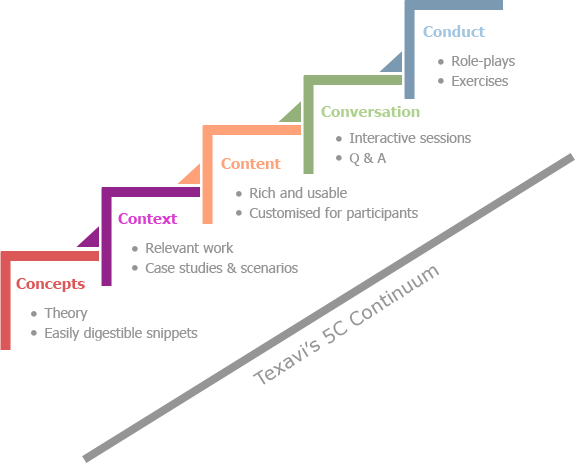 Our 5C model was developed based on industry best practices and continually enhanced through our own experiences. This model provides the participants context-based learning, encourages conversation and establishes the concepts through practical exercises that go beyond the delivery of normal content.
Because we balance expertise with experience
Our team members have been working in the IT industry over the last 10 years. They work in various roles and are part of project teams analysing, designing, developing and delivering solutions to clients, worldwide. We balance the rich and varied experience with the valuable expertise, for the benefit of participants.