Why Texavi
Because people are our business
Manage change, quickly and effectively... we are agile
Take small steps to big goals... we are lean
Get the best from technology and innovation... we are smart
Deliver delightful experiences... we are a people business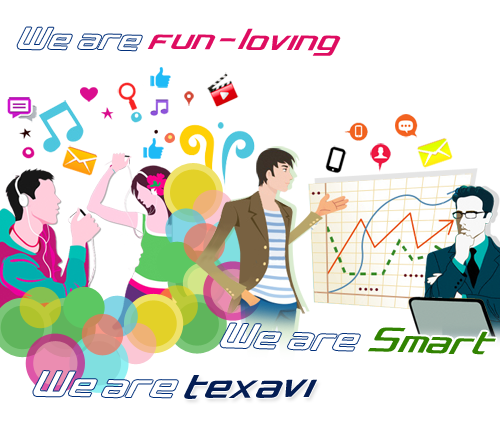 Because we help you get it right
Texavi believes that successful businesses today are about:
People, not just customers and users
Experiences, not just engagement and influence
Brands, not just products and services
Habits, not just one time actions
Insights, not just metrics and analytics
With our consulting, training and solutions, Texavi will help you get it right using our in-depth expertise and insights. Benefit from our proven frameworks and processes such as Social Business Maturity Model (SBMM) and Unified Experience Framework (UEF). We add real value through the best practices and lessons learnt from our experiences working on various projects and products.
Texavi's consulting draws its strength from our people-centered practices. Our training sessions provide usable insights by touching upon the emerging trends. Our solutions are based on latest technologies and platforms, catering to the multiple channels, platforms and devices. These include desktop, web - based applications, mobile and Tablet apps.
Because we know your needs
Our team members have rich experience working on multiple product - engineering assignments... so you benefit from our experience
We deliver value quickly and early, to you, your customers and users... so that you are ahead in the game
Texavi consultants have deep domain knowledge... so they can identify the problems and recommend feasible solutions that work for you.
Our consultants are up-to-date with latest happenings in technology, innovation and industry-related areas... so you get the early-mover advantage
Texavi training sessions are hands-on and interactive... so that you have the right knowledge and key takeaways
Because our teams have the right credentials
Texavi's team members have the required expertise and experience to provide high-end consulting, training and deliver innovative solutions. They are well qualified and are equipped with the right credentials. Along with the appropriate educational background, our team members also have certifications from reputed professional bodies.
A few of the recent certifications for team Texavi are given below:
Fellow of British Computer Society, FBCS
Certified SCRUM Master, CSM - from SCRUM Alliance
Certified Usability Analyst, CUA - from Human Factors International

Following are some of the professional organisations and associations that Team Texavi is associated with:
British Computer Society, BCS
Association of Computing Machinery, ACM
International Institute of Business Analysis, IIBA
Usability Professional Association, UPA
Special Interest Group - Computer Human Interaction, SIGCHI