Texavi provides world-class, professional consulting services to help support our clients' initiatives. Our people-focused practices include Social Business Enablement, Behaviour Modelling and Persuasion and User Experience Innovation. We also offer expert consulting in Business Systems Analysis and Agile Development Methodologies to support the various business and technology initiatives of medium and large organisations.
The key domains and verticals that we serve are Media, Publishing, Education and Retail. Texavi focuses on these domains and verticals to ensure that we deliver the best value using our deep focus and specialisation.
Our Consulting Practices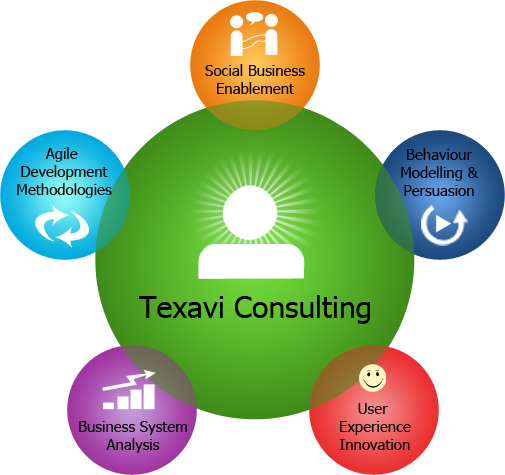 Texavi's frameworks add value to our practices
Within each of the five consulting practices, we created proprietary frameworks and methodologies. The processes within these methodologies are prescriptive, yet flexible to be applied to organisations of varying sizes and industries.
Behaviour Modelling & Persuasion
Create the right behaviours and habits in your customers and users! Our Do It Now framework helps!
User Experience Innovation
Understand customers' real needs & deliver delightful products and services. Use Texavi's USE-IT methodology for customer insights.
Business Systems Analysis
Identify the real problems first to create effective solutions. Benefit from the rich insights by applying our ProLogic methodology.
Agile Development Methodologies
Manage change through the approach that works for you. Create the approach from proven methodologies like
SCRUM
and
User Stories
.