Texavi's Social Business Maturity Model
Our Social Business Maturity Model, also referred to as SBMM, provides the right guidance and support for businesses in their social business journey. It helps the businesses assess and adjust their activities, at each phase in this journey. The Social Business Maturity Model has milestones, checkpoints and metrics that help businesses with periodic assessment of the progress.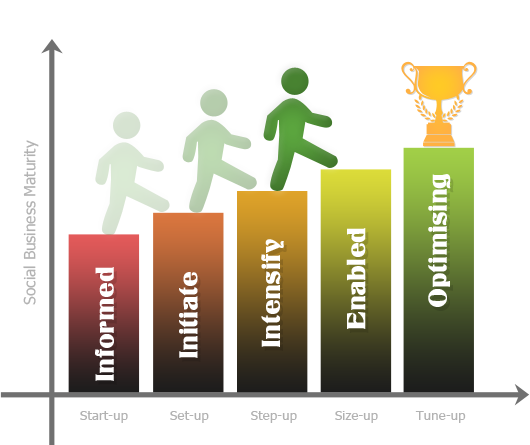 An overview of SBMM
The Social Business Maturity Model comprises eight key focus areas across five levels, classified into internal and external perspectives of the business. Within each of these focus areas, the organisation's activities are divided into five phases in the social business journey. Each phase corresponds to a maturity level, starting from Informed - Level 1, through to Optimising - Level 5. Based on the phase, the goals, activities, resources and focus areas differ. The phases also guide you along the path with milestones and checkpoints.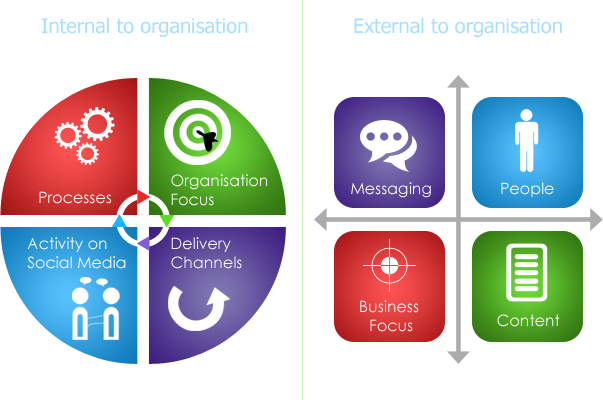 Social Business Maturity Model by the numbers
Texavi's social business enablement practice comprises the following:
5 maturity levels - level 1 through to level 5
5 phases - Informed, Initiate, Intensify, Enabled and Optimising
5 gears - Start-up, set-up, step-up, size-up and tune-up
4 internal focus areas - business focus, processes, delivery channels and activity on social media
4 external focus areas - people, content, business focus and messaging
3 progress indicators - measures, metrics and insights
2 perspectives - internal and external
1 framework - Texavi Social Business Maturity Model
Why Social Business Maturity Model
Benefits of Texavi's Social Business Maturity Model are numerous, but we give below a few:
Provide a framework that acts as a guide to help social businesses
Flexible to accommodate changes to suit the needs of the business
Comprises industry-standard practices, backed by our experiences
Lead the business to success, through step-by-step approach
Support measuring the progress using analytics and insights