Social business is not just about using social media
For success in business today, mainstream media and search engine optimisation are necessary but not sufficient. Also, it is not just enough to use social media for promoting and advertising products and services. Successful social businesses optimise their strategies, operations and resources towards 'people', both internal and external, to the organisation.
Our Social Business Enablement practice
Social businesses focus on building their brand and delivering delightful experiences, not just products and services. They move beyond the customers and users, and aim at influencing 'people' including customers, followers, friends and fans on social networks. The four key dimensions for social business are people, content, business and messaging.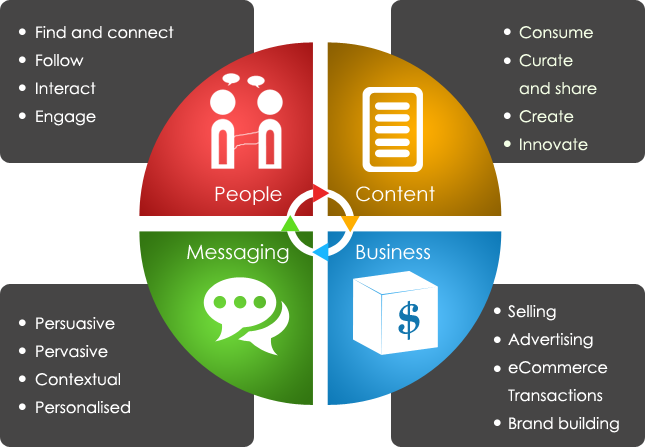 Our social business enablement practice equips organisations with the right methodology, teams and tools and techniques. To help you succeed in the social business initiative, we have the right expertise and experience. We derive usable insights from the industry standards and from our own experiences working with clients. Our thought-leadership and continuous innovation with methodologies and practices add to these insights.
Components of the social business practice
Texavi's social business enablement practice comprises the following:
Goals and success criteria - End goals for the social business
Key Focus Areas (KFA) - Internal and external to business
Phases and Maturity Levels - Stage gate progression levels
Activities - On social and professional networks
Key Progress Indicators (KPI) - Measures, analytics and insights
Goals are the motivating factors for the social business, and act as the definition of 'DONE' in their initiative. The key focus areas are distributed equally amongst internal and external perspectives of the business. The phases and maturity levels act as stage gates for the business. They help the social businesses in measuring progress through appropriate milestones and checkpoints. Finally the key progress indicators help in assessing the performance and guide the organisations in taking the right decisions.
How we can help you...
Structure your teams, processes and offerings
Build awareness amongst your teams and stakeholders
Kick-start the social initiative in your organisation
Implement the social activities and show results
Support your teams in continuing the progress
Help you measure progress and achieve success
Social Business Maturity Model
The Social Business Maturity Model (SBMM) is a proven framework that helps you in the social business journey. We created this framework to lead organisations through the various phases and maturity levels. With milestones and checkpoints, the maturity model helps measure the progress in a structured way.