The real success for businesses lies in identifying the target people who are already motivated to perform the desired behaviours. Place hot triggers in their paths and nudge them with the right persuasive design and messages. To put it in simple terms, "Want to do + can do = will do". We created this framework, part of which is inspired by Prof. BJ Fogg's Behaviour Model. Using our Do It Now framework, businesses can appeal and persuade, to help build awareness, emotion and trust.
Texav's Do It Now Framework - An Overview
Provides a model for behaviour change through persuasive design and messaging
It has 3 core strands - awareness, motivation and action
The core objective of behaviour change is achieved using the powerful tools i.e, appeal, persuasion and triggers
The framework is agnostic of technologies, domains and verticals
Our Do It Now framework can be used in designing, developing, delivering and marketing products and services for any consumer-facing segment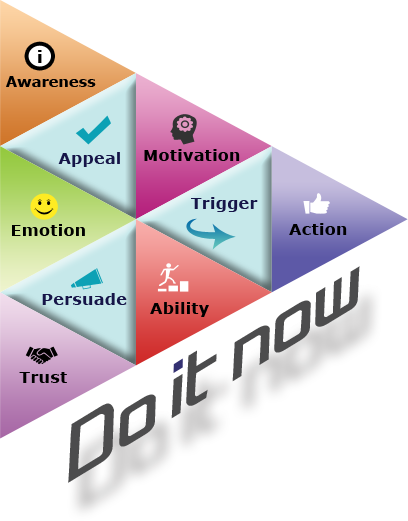 Behaviour change and habit formation
Businesses may want to induce new behaviors in their new customers. While in some other instances, you may need to change the existing behaviors - increase, decrease, or altogether stop them. Behaviour change can be classified into the following four categories.
People can acquire new behaviors - Do New
Increase existing behaviours - Do more
Decrease existing behaviours - Do less
Stop existing behaviours - Stop doing